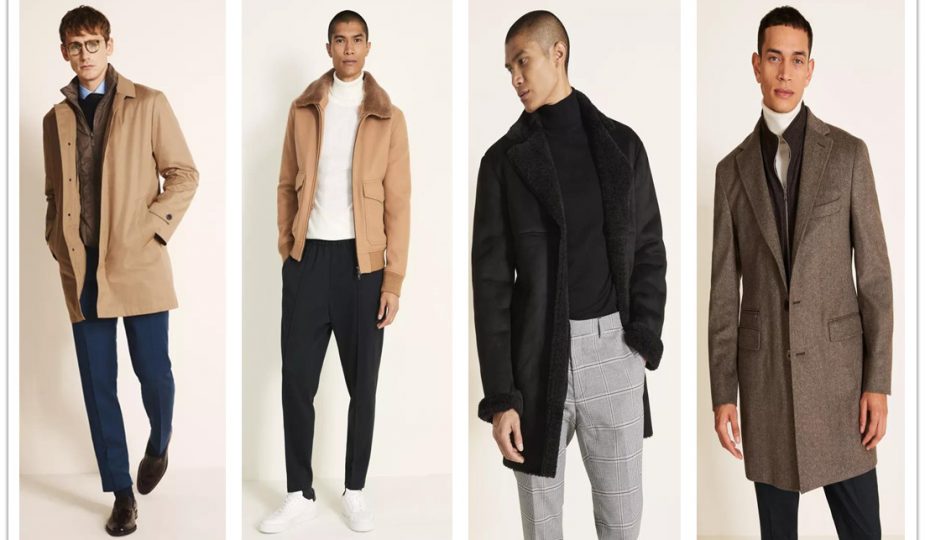 There's nothing like a decent coat to round off an appearance, but with so many choices available, picking one may be difficult. So don't worry — this collection of men's coats fits every occasion. From elegant double-breasted wool types to classic overcoats and waterproof jackets, you'll be prepared for any weather condition.
* It's cut for a tailored fit between standard and slim, and it's made of a smooth double-faced structure.
* Turn up the collar to expose a subtle check and layer it over zip-neck knitwear.
* This camel-tone cover-up is a gorgeous essential for keeping you toasty all year long, thanks to quilted padding for added warmth.
* This classic design comes in a sleek, slim fit with a double-breasted clasp, cuff straps, and side pockets and is perfect for work or the weekend.
* Cut from a silky fabric that has been mixed with wool for enhanced warmth and comfort.
* It's made of a soft wool-blend fabric with a stylish oatmeal herringbone weave for an added touch of luxury.
* This sherpa coat has a smooth, soft-touch feel on one side and a curled look on the inside, making it great for chilly days when warmth and elegance are both required.
* Take on the cold with this on-trend men's coat that shows off your sense of style. It has a smooth surface that is simple to slide into, and the curling appearance inside gives a fashionable contrast.
* It's an easy winner for keeping out the elements on rainy and windy journeys since it's fashioned from flannel that's generally found in our suits, wadded with insulating padding, and cut to a length that'll offer covering to the knee.
* The navy color goes well with casual and tailored styles, and the poppers on the side seams allow easy adjustment.
* This Moss 1851 design is a lightweight raincoat for warmer weather that has been treated for water repellency to let the rain roll off easily.
* The storm flap, adjustable hem, and cuffs make it easy to battle the elements.
* It's cut narrower than many other designs, so you can layer it over thick sweaters or tailored jackets to keep warm in the cold season.
* It's easy to ignore a star outerwear item when last season's dark and stormy chunky knits still receive heavy rotation. Still, when you stumble across MB's black puffer jacket in soft flannel, you'll feel the anticipation all over again.
* On windy days, cinch the drawstring hood and store your phone and keys in one of the easy-to-reach side pockets.
* It's made of sturdy, soft-hand-feeling fibers and trimmed with ribbing, so it'll keep its form during washing and wearing.
* Side-entry pockets augment the flap pockets, giving you a place to hide your hands when the temperature drops.
* It's crafted from a wool-blend and cut in an oversized silhouette that will never go out of style, complete with a neutral collar that dresses up or down any outfit.
* The Savoy Taylors Guild offers a taupe overcoat woven with a herringbone pattern in a wool-rich fabric combined with silk.
* On colder days, this design may be worn alone or with a tonal insert to protect you from biting winds while still appearing attractive.
* Look professional in this sturdy tailored cut coat, constructed in wool and combined with a touch of silk, whatever the weather.